A Simple Bible Study On Believing
By the Introduction, HTML and PDF
Welcome to a detailed Word Study on the word "believing" as it is found in the Gospel of John!
Perhaps you've come here as a result of receiving the tract as represented by the graphic below.
This should help you understand this book and Bible Salvation much more clearly.
Just take each PDF link below and read taking notes. Ask God to help you 1) understand it's simplicity as you study and
based of the confession principle in Romans 10:9-10, as God to show you when you "Believed" by a date. (See 2 Corinthians 6:2
to understand the "event" principle, or remembering a day you did it before God, "knowing you'd never need to pray that prayer again.")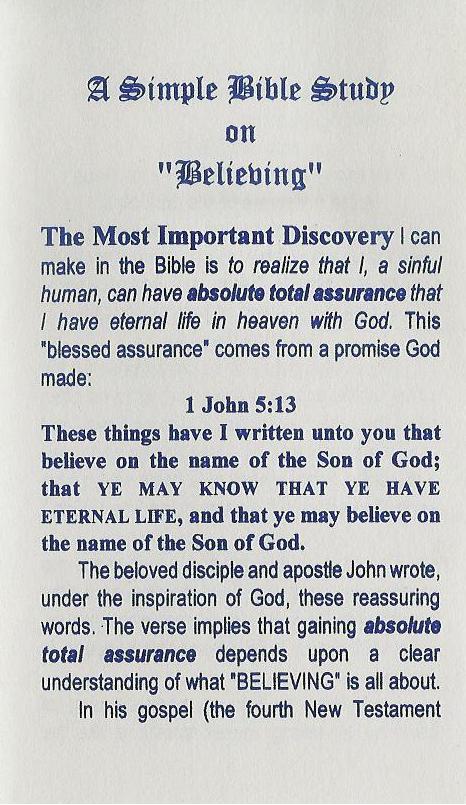 An Introduction.htm
A Simple Bible Study An Introduction.pdf
By the Chapter...
A Simple Bible Study-Ch4-answered.pdf
A Simple Bible Study-Ch6-editing.pdf
A Simple Bible Study-Ch13-14.pdf
A Simple Bible Study-Ch17-19.pdf
A Simple Bible Study-Ch20-21.pdf
A Simple Bible Study-Conclusion-of-John's-Believing.pdf
See more file types here (if you prefer not to use pdf).
Panels of 1996 Tract (jpg files) 2015 is a smaller (PDF link here) printed tract that fits two each 8.5x11" page.
1 | 2 | 3 | 4 | 5 | 6 | 7 | 8, Do not use this #8 if corrected TBC hours are needed to use.
Hours original printed panel 8 only, for actual images use link to PDF just above.