2008 News Page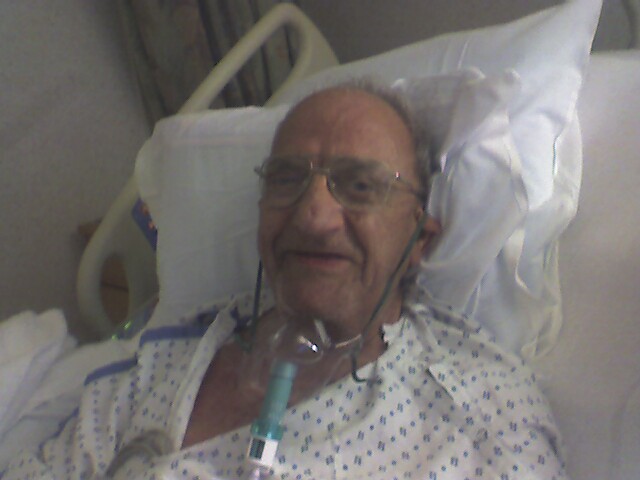 Bernard Meisler Sr.
September 26, 1918 - December 14, 2008 (6:15am)
Arrangements to be made in Colchester, CT for Burial
"I know I have a Place in Heaven"
1Jn 5:13 These things have I written unto you that believe on the name of the Son of God ; that ye may know that ye have eternal life , and that ye may believe on the name of the Son of God.
14 And this is the confidence that we have in him, that, if we ask any thing according to his will, he heareth us :
15 And if we know that he hear us , whatsoever we ask, we know that we have the petitions that we desired of him .

---
Visuals
See Movies: (This is a movie of Bernie saying his version of a Jewish prayer for a recent new-born to Keith Tower Family)
---
Computer Pro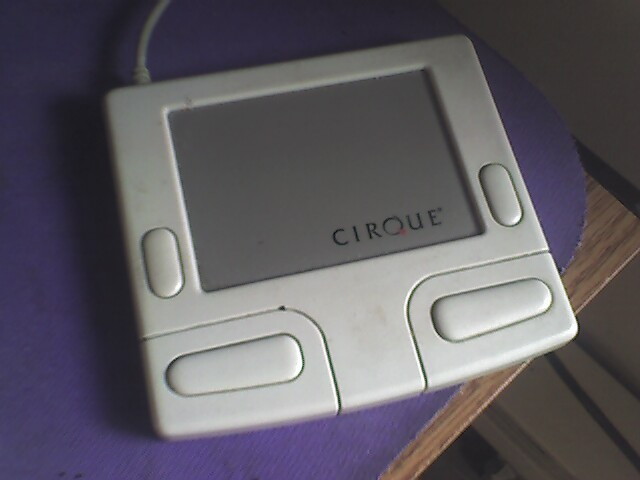 Thanks to Bernard Searle, Bernie has had great-working computers which he often brags about having in his room. The mouse above was the best devise we have found to enable Bernie to operate his computer successfully. Thanks to Ruth Wolf for donating this from TBC.
---
Song Dedication "The Ninety and Nine" to Brother Bernie
---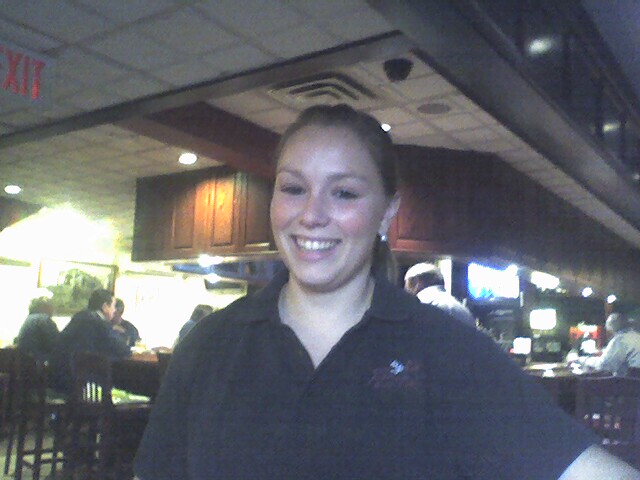 Our Cheerful Waitress at Marco Polo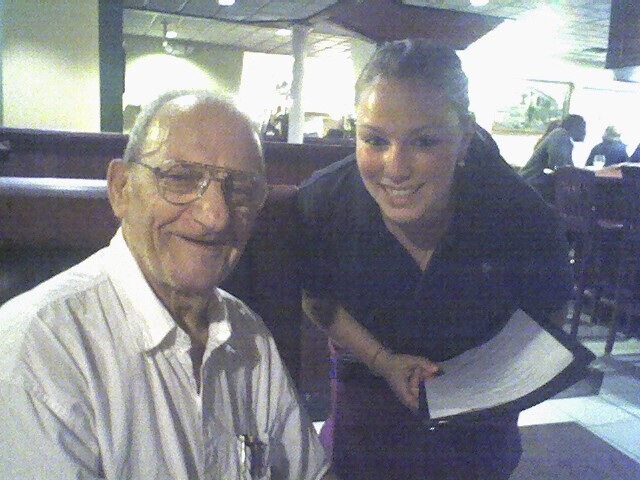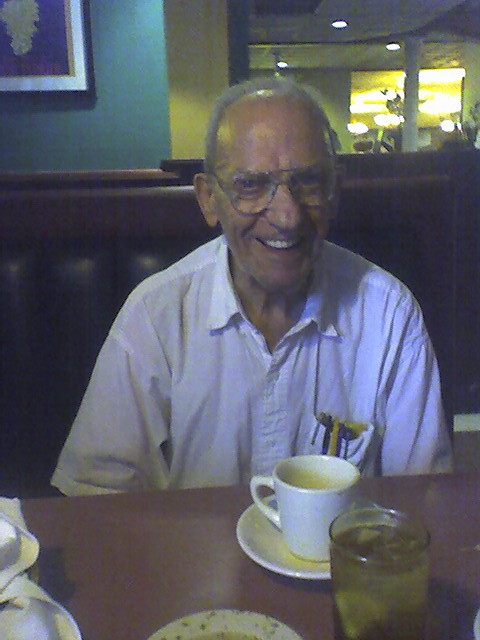 In Bernie's pocket are pens and a tract yours truly has given him to explain the Gospel to which he has tried to do numerous times. One of the pens in his pocket is imprinted "Jesus Loves You" -- which he tells everyone is his favorite.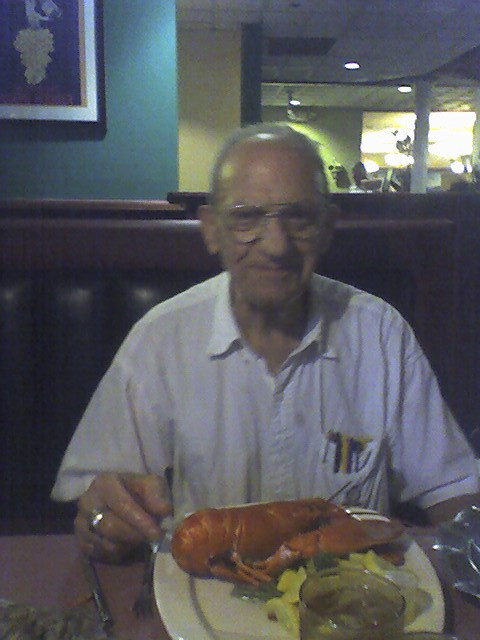 Lobster No 1...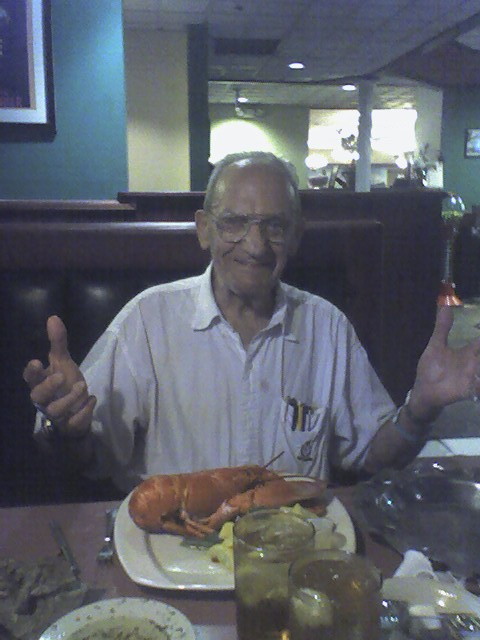 And ... Bernie "Double-Portion" Meisler on Lobster #2!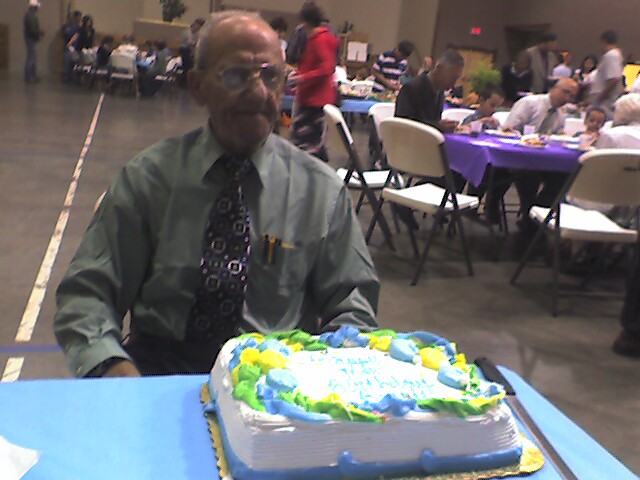 Bernie received a cake purchased by J. Morrell on Sunday Evening after his 90th birthday. He is wearing a shirt and tie given to him by P. Creech. We have a fellowship supper after the evening service usually monthly on the last or second to last Sunday.
---
Bernie Featured in the Westside Herald: 1st Edition, October 1 2008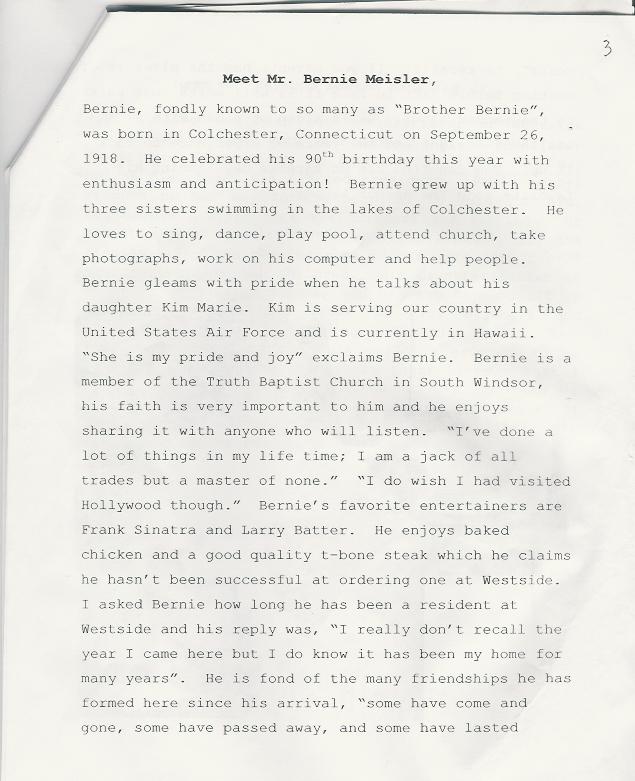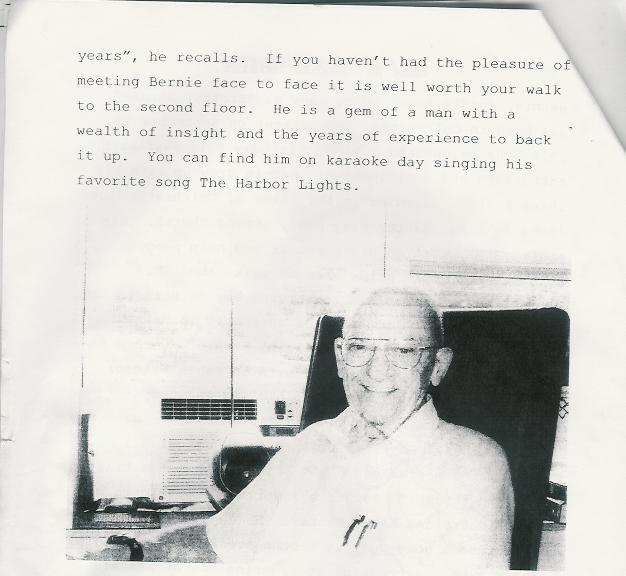 ---
Before we let him take off his mask, and after (for just a few minutes):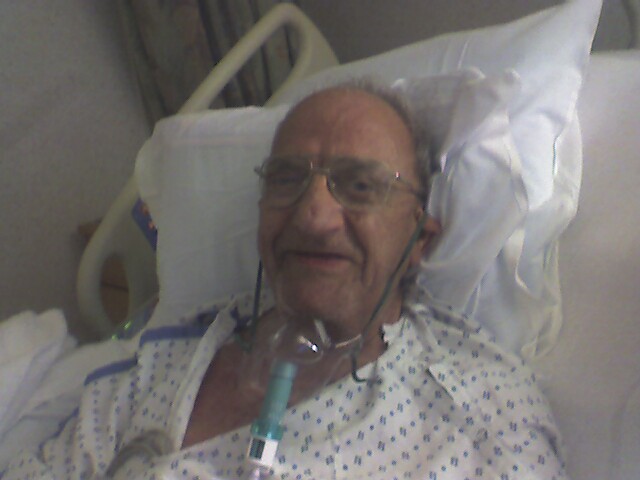 Live movie clips:
Thank you for praying for, and remembering, his whole family during these hours.
Bernie recovered briefly from a couple of blood clots: one was a massive lung tumor and the other inside his right shoulder, and allowed treatment only for this with special blood-thinning treatments at Manchester Memorial Hospital Friday. Saturday afternoon as he was saying good-bye to Kim, he asked to return to his "home" Westside Care Center. En-route he became unresponsive and I was called for transition but was immediately told he had only hours to live. I called our former Pastor, Rev. Chad Prigge, now Pastor of Fairmont Baptist Church, Fairmont, MN, on my cell phone. With the speaker phone, Pastor Prigge recounted their memorable baptism details, sang with his beautiful tenor voice the song, "Does Jesus Care?" and prayed briefly before we hung up.
I then programmed his computer to play a 70 minute song CD made for his 90th birthday he loved to listen to, followed by 7 or 8 chapters of audio Bible from his hard disk drive and set it to continue to play for him the remainder of the night and into the early morning hours.
I then kissed him on the forehead and whispered "See you in heaven, my dear brother!" At 6:15 am Sunday morning, December 14, we have to believe he entered the Gates of Heaven and met his Messiah face-to-face.
Less than 24 hours later, being a traditional standard Jewish practice, he was buried in a simple pine casket at Colchester. His daughter left by plane at 7 am that morning returning to HI, and was notified in Dallas-Ft. Worth Airport and returned for the graveside-funeral.
We will all miss Br. Bernie-- and memorials are being set up for him in several ways. ---CPL
See details by clicking each thumb for a full size image.