Main Links
Web Folders:
A Daily Prayer Notebook Main Index
Learn to Pray Page Index -see all the p-n- documents
Bible Study Intro Index
The Latest full entire version

My Classes Links:
DPN Class List and Links in their Context (to be updated as completed)
Personal Links:
2006 Web Edition Guest's Daily Prayer Notebook\
The 1980 Prayer Notebook (thumbnail graphics of the first printed PNB)
Recent and ACCESS Pages
Access all You can see articles by yours truly, pastors, and missionary web pages we're hosting, and other Christian helps here including, among others:
Family Links:
Resources for your Family : Audio or Video
Freedom Index
My Business Links
Bernie's Photograph Page
1. Earliest Pictures

Feb. 1993 (Thumb-nail, click for full size)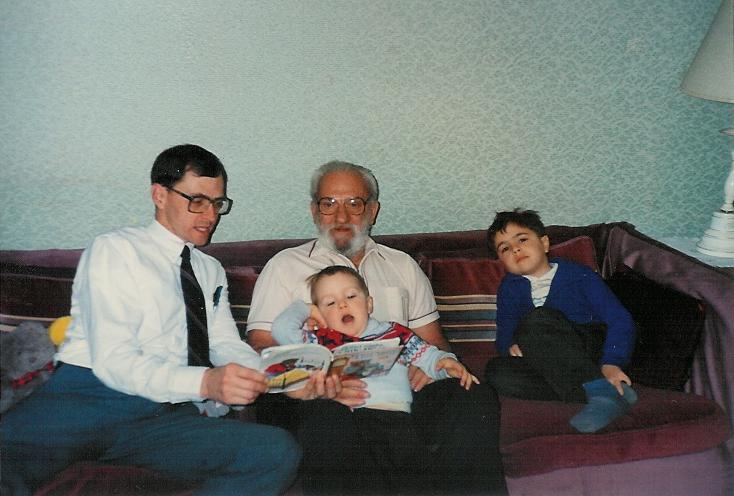 April 1995
2. The "Bernie / Henry Peck / Lanyon" Garden Coop:
2005:
2006 -still early pictures
2006 -grown to mid-July
2006 late July - Harvest Begins!

(wild black raspberries picked nearby in a bowl of vanilla yogurt!)
2007 Garden Pictures
These are high resolution digital pictures over 2M each.
Bernie inspects our gardens and enjoys gardens immensely!
See Bernie At The Butler Carpet Cleaning Equipment Manufacturing Plant, Ludlow, MA
3. Family
2004
Trip to CALIFORNIA to visit Grandson Dave and Great Grandchildren.
2007
Trip to GA to see Grandson Dave and Great Grandchildren.


Note the tract, that was usually in his pocket, is being shown to his grandson David and great granddaughter Briana (Bree) in this next picture. You can read/see it here.


89th Birthday Present, Ties