Main Links
Web Folders:
A Daily Prayer Notebook Main Index
Learn to Pray Page Index -see all the p-n- documents
Bible Study Intro Index
The Latest full entire version

My Classes Links:
DPN Class List and Links in their Context (to be updated as completed)
Personal Links:
2006 Web Edition Guest's Daily Prayer Notebook\
The 1980 Prayer Notebook (thumbnail graphics of the first printed PNB)
Recent and ACCESS Pages
Access all You can see articles by yours truly, pastors, and missionary web pages we're hosting, and other Christian helps here including, among others:
Family Links:
Resources for your Family : Audio or Video
Freedom Index
My Business Links
Bernie Meisler
2008 News Page: Bernie has celebrated his coronation!
Bernie's Life Lives On "After 2008"

Bernard Meisler, Sr.

September 26, 1918 — December 14, 2008

2:00 pm Monday December 15, 2008

Orthodox Jewish traditional

Grave side service only.

Colchester Jewish Aid
Jewish Congregation of Lebanon


Cemetery [2nd Cemetery 1/4 mi on R off Rt 16 (Middletown Rd)]

Gillette Lane, Colchester, CT 06415
---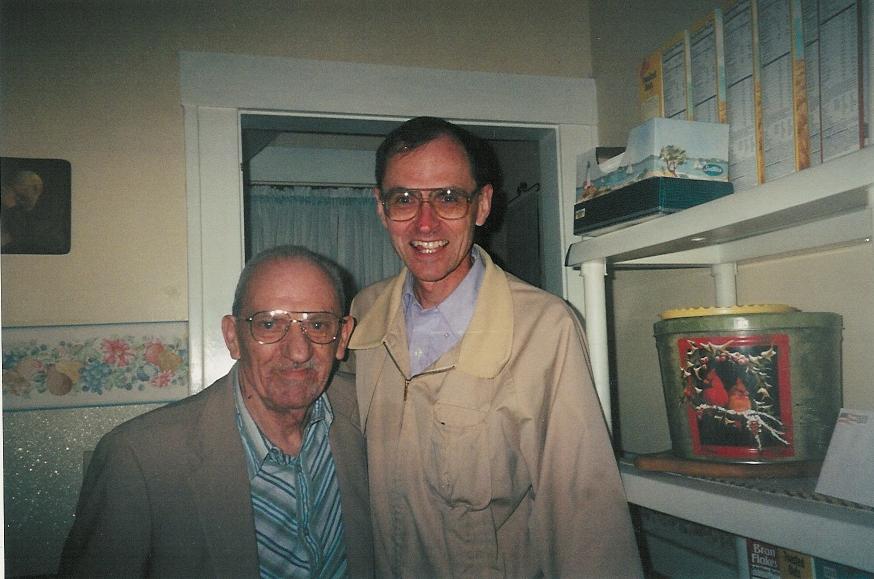 At the right in the CT Lanyon kitchen, is a picture of a Hebrew Christian, (age 88 on September 26, 2006, a completed Jew on October 19, 2003) .
I first met Bernie in fall of 1992 as I took my parents on the Lady Fenwick, a Connecticut River Boat cruise, as I showed them CT. (It was the first and last time they both were able to visit me in CT. They lived in Northern Central Colorado.) On that boat that day we met "Bernard Meisler, Sr." He was 74.
A Chance Meeting
Bernie lived at a Hartford Nursing Home, and we struck up an immediate friendship. I offered to take him to church and bought him a Bible. Not willing to discuss personal level religion then, God did a work and, 11 years later in 2003 while living in a Manchester Nursing home, he came to our church and was later baptized on Memorial Day, 2004. A movie for you to see of it is here.
Bernie in May 2004
6 months later, attending church weekly 3 times, Bernie knew he wanted to please Jesus the Messiah. He obeyed Jesus' example of Baptism.
Bernie Is Baptized, May, 2004 [Bern-is-bap.MOV]
Bernie's New Family
You have never seen someone so thrilled to be included in such a big lovingly warm family.

Bernie's Christian Barber is Br. Joe Picard,

a professional barber, still working at age 76 in East Hartford's Professional Barber Shop.

Bernie with Pastor Rowley

Rob Hamilton takes Bernie out to eat often, and is a real encouragement to him.
See more at:
Thanks for visiting.