Main Links
Web Folders:
A Daily Prayer Notebook Main Index
Learn to Pray Page Index -see all the p-n- documents
Bible Study Intro Index
The Latest full entire version

My Classes Links:
DPN Class List and Links in their Context (to be updated as completed)
Personal Links:
2006 Web Edition Guest's Daily Prayer Notebook\
The 1980 Prayer Notebook (thumbnail graphics of the first printed PNB)
Recent and ACCESS Pages
Access all You can see articles by yours truly, pastors, and missionary web pages we're hosting, and other Christian helps here including, among others:
Family Links:
Resources for your Family : Audio or Video
Freedom Index
My Business Links
NE Blizzard of 2013
Family and Friends,
We survived the 29" Blizzard that hit Ne England February 8, 2013, Friday. I will load pictures of our roof later and the raking we plan to do soon.
A brief mp4 video outside our front door Friday night:

after this still: Long Hill Street Blizzard view looking east.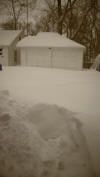 We just finished shingle-topping our garage roof 3 minutes after snow began!
From our FB this is fascinating!
It is another home in New England using time lapse photography of a back porch in MA of this same storm:
https://www.facebook.com/photo.php?v=702325437246&set=vb.21501418&type=2&theater
---
Get back to Index to CTLANYONS Page |
CT Lanyon Homeland Index through 2011 | email me @

for the link to our private 2012 copy.