Main Links
Web Folders:
A Daily Prayer Notebook Main Index
Learn to Pray Page Index -see all the p-n- documents
Bible Study Intro Index
The Latest full entire version

My Classes Links:
DPN Class List and Links in their Context (to be updated as completed)
Personal Links:
2006 Web Edition Guest's Daily Prayer Notebook\
The 1980 Prayer Notebook (thumbnail graphics of the first printed PNB)
Recent and ACCESS Pages
Access all You can see articles by yours truly, pastors, and missionary web pages we're hosting, and other Christian helps here including, among others:
Family Links:
Resources for your Family : Audio or Video
Freedom Index
My Business Links
Ron Paul Channel Index /
Freedom Folder on APN
Formerly:

10+Terms
Present and Past Web Pages to learn more about how libertarian concepts enter into freedom issues in America today:

Campaign for Liberty | Political Action Committee C4L | MySpace-Blog | Statement of Faith| Fixing America's Economy | 2012 Presidential Website | Advisory 2 | Audit the Fed, Keep up the pressure: $13 Trillion Missing? |
Other Info & Links:
Ron Paul is accused of being unchristian. He is not. Ron Paul's Faith. Ron Paul is courageously Constitutional and committed to this rich American Document! The link explains how we got the U S Constitution in a message from a CT 'Constitution State' Pastor!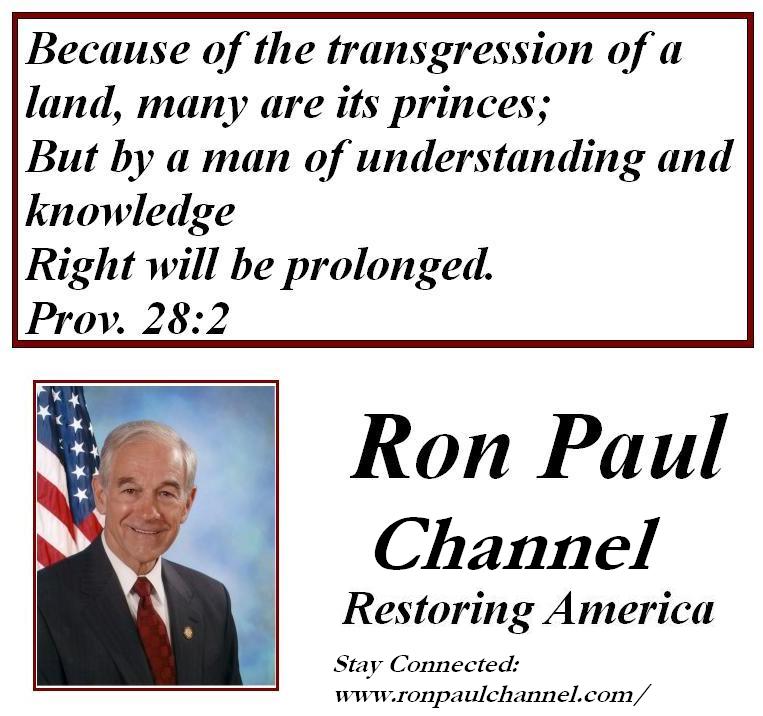 ---
Index for Freedom on APN | A PRAYER NOTEBOOK Home Page
Business Freedom Page on APN | www.glorycarpetcleaning.com/freedom