Welcome to the Riverside Health and Rehab Sunday Services Page
Truth Baptist Church
at
Riverside Health and Rehabilitation Center
We are glad to present to you the blessings of knowing the God of the Bible. Each month's first Sunday is a Bible message and a time of singing and hearing the timeless truths of the Indestructible Book. In the other weeks of each month we are learning together how the Bible made America great by studying American History:
We are studying our American Constitution and History --
How 1787 changed 5,000 years of world history.
-- And now how some 230 plus years have changed America into something our forefathers truly would not recognize --
And what can be done to change all of the detestable current America.
Thanks for being a part of it with us! May God bless you!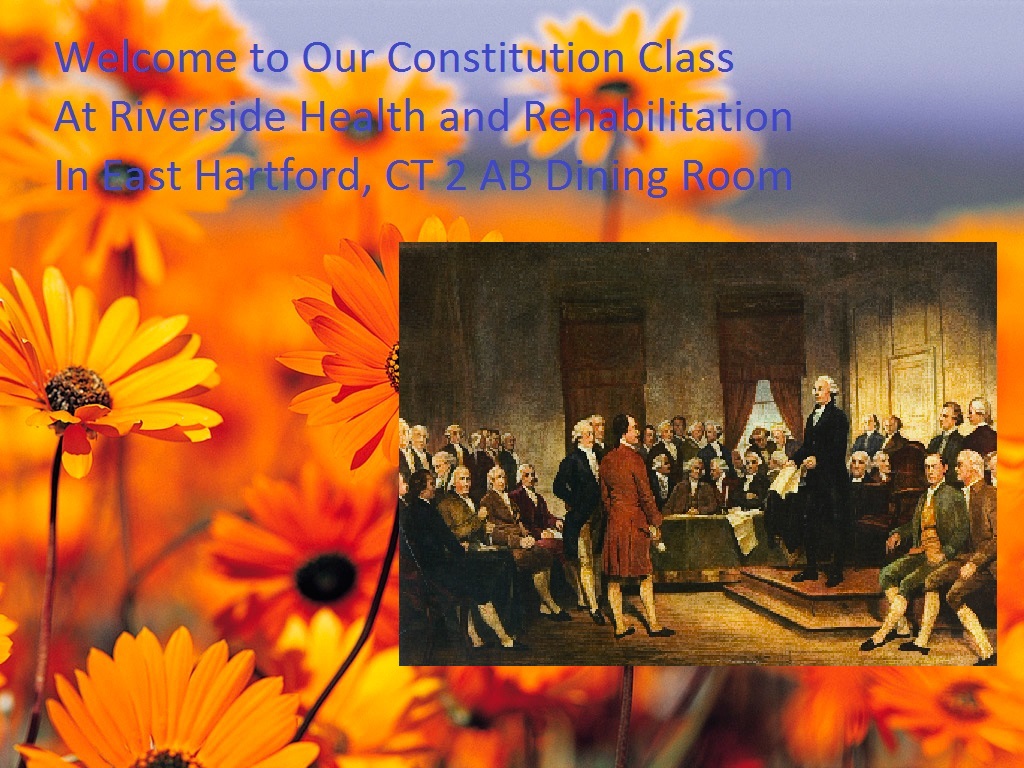 Old folder links to be transferred to this folder: const-pt1 | const-pt2 | Index Praying For America APN
Pray4AmericaProject | P4AProject
Changing the America We Now See
Into "What It Ought to Be"
Change is not an easy thing to do because we constantly resist it. It is part of our evil human nature.
But change is exactly what our forefathers did with courage and a very humiliated historical past they wished to alter.
Change is both a short term and a long term consideration.
Short term in that action must be taken at once.
Long term in that the effect to see change take place is not effected so quickly.
The nature of the change required is also spiritual, and thus with opposition, and high stakes for the outcome.
It must be approached with the power of omnipotence to effect a real change.
Herein lies the real power to change things!
These lessons are currently being presented at Riverside Health and Rehabilitation Center of East Hartford.

Any are welcome to visit locally. We meet each Sunday afternoon between the hours of 2pm and 4pm, and begin as soon as that week's schedule permits.

Our small group meets at the 2AB Lunch room where we use the Wall-mounted TV for viewing the lessons.
See our Certificate of Achievement.pdf presented to 13 residents On September 28, 2014: To these residents:
1 Luz Rojas
2 Rachael Cooney
3 Wanda Henderson
4 Jane Coppage
5 Norma Cortez
6 Mary Assencao
7 Doris Rodriguez
8 Minnie Mitchell
9 Lorianne Stephanian
10 Arthur Massey
11 Irene Gardner
12 Barbara Dukes
13 Gloria D'elia
We plan to post PDF of the hand-out here since our class is completed for review.
Folder of contents Part 1 Series [April 2014 - October 2014] here const-pt1
Folder of contents Part 2 Series [November 2014 - 2015] here const-pt2 Contents you will need are jpg images. Text files are unedited as yet.
Copyright pages scanned here for use of those in the Riverside Constitution Class, Thank you.
---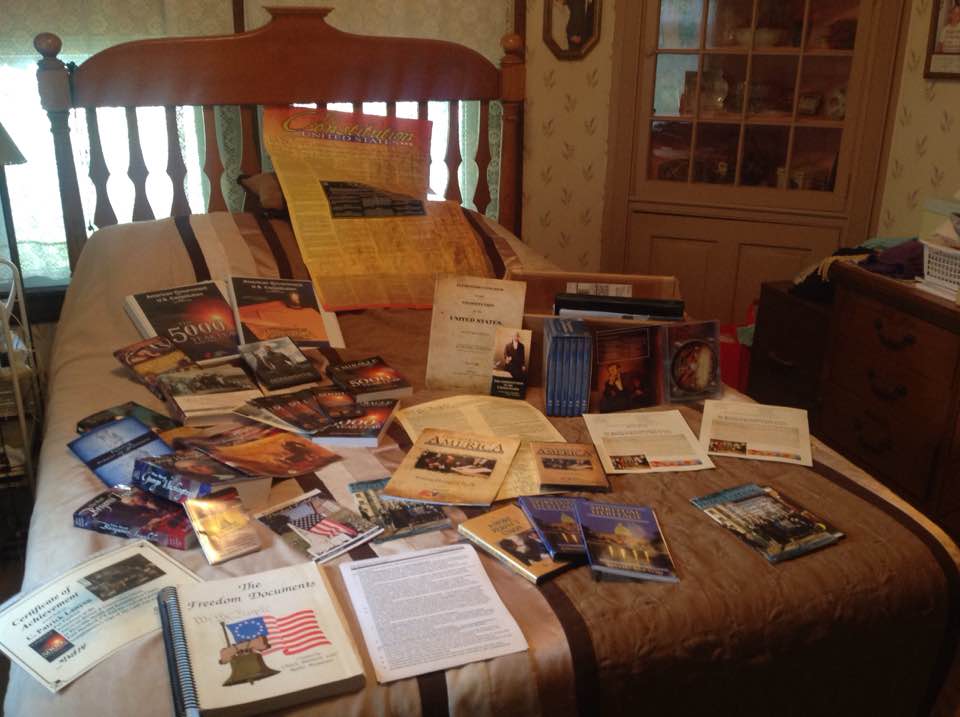 We have completed 5 Years of American History Study --
What a trip down through it. I never thought I'd have enjoyed it this much!
I. We viewed David Barton's studies on (www.wallbuilders.com)
1)America's Godly Heritage, 2) The American Heritage Series (10DVDs) and 3) Building on the American Heritage Series (6DVDs). This introduced us to an America most of us never heard of in our school rooms as we were taught in the last quarter of the 21st Century.
II. Then we discovered the 2 Part Programs and Materials from The National Center for Constitutional Studies (www.nccs.net)as taught by Earl Taylor and literally "went to a school classroom"
4) Part 1 American Government and the U. S. Constitution (6DVDs) Principles of Freedom 101 & The 5,000 Year Leap – an introduction to 28 principles by which the Fathers of American Government used in their law making and enforcement, then we saw the importance of the wisdom that went into the making of our own constitution,
5) We saw a re-enactment of the Drafting of the Constitution made into a full movie entitled "A More Perfect Union" – America Becomes A Nation. And then we began in depth the
6)Part 2 "Curriculum Guide" (12DVDs) which took us extensively down a paragraph-by-paragraph walk through the entire U.S. Constitution, including tests in what amounted to an entire semester's materials in a typical High School course on American Constitutional History and it's background.
III. 7)We briefly viewed a 6-Part Series entitled "We The People" – The Character of A Nation from Vision Video, 6 one-half hour discourses on key phrases of our Declaration of Independence.
IV. Having heard so much of our Constitution, we returned to David Barton who has accumulated over 100,000 original documents of our Founding Fathers to see:
8) Foundations of Freedom (6DVDs) – How Our Founding Fathers Used the Bible as A Blueprint for America's Freedoms, which interviewed and discussed with American Personalities what the Bible really meant to the origins of our government. Finally we took a DVD Guided Tour of our U. S. Capitol in Washington D.C. 8) "The Spiritual Heritage of The United States Capitol" (1DVD) lasting 2 hours taking over a month to pen the material in handed-out sheets you could keep in a book to review and share with others.
V. Before and After these materials we have viewed Kirk Cameron's (www.monumentalmovie.com) video clips, and videos, plus the movie he made entitled
9)"Monumental – In Search of America's National Treasure" – a documentary which visualizes the preceding events leading up to the founding of America in Netherlands, England, and other Europe's oppressed peoples who sacrificed all to leave their homes and come to America in search of changing government altogether.
VI. We have also referenced a book of 49 original documents,
10)"The Freedom Documents," compiled by Chuck Baldwin, (www.chuckbaldwinlive.com) a Pastor then in Pensacola and now is Pastor of Liberty Fellowship in Kila, Montana.
What have we learned about this incredible nation we live in?
*-- Our Founders were oppressed– but somehow knew their life could be free from that oppression by heeding and making the Bible integral in government. When America was discovered, a dream was seeded in their lives that came to fruition!
*-- They then brought their "Geneva bible" with full set of notes and resolved to live and heed it fully. They lived lives to prove it though they failed countless times doing so.
*-- God blessed their desire to honor Him, and at times He supernaturally intervened to allow "the American Revolution" be a winnable war.
*-- It took over 100 years for the strength of the nation to become set in stone, and a monument was erected that stands on a hillside today in Plymouth, MA, commemorating Freedom in America to be a reminder to all future generations.
*-- We must take the Bible and live the truth that we read and understand from it and make sure it's truths are rooted in our government.
*-- We must maintain the absolute morality contained in the Bible and keep it alive in our government seeing to it that all creation can be blessed by it's wisdom once the truth is understood from it's pages.
We therefore take this Bible reading to apply God's truth regarding government, and make sure it is the "good" God describes it to be which results in a world where old men lean on a staff because long years of life extend their lives on a street full of children playing heartily and safely free from fear and slavery. (Zechariah 8)
Zec 8:4 "Thus says the LORD of hosts:
`Old men and old women shall again sit
In the streets of Jerusalem,
Each one with his staff in his hand
Because of great age. &nbsp
Zec 8:5 The streets of the city
Shall be full of boys and girls
Playing in its streets.'

1. God Intended His Creation to Be Governed by Himself! When They Failed, He granted their request, and advised them how their error would impact their life:



1 Samuel 8 – 1 Samuel 9 – 1 Samuel 10:1-8

1 Sam 8:7 Heed the voice of the people in all that they say to you [in asking for a king] ; for they have not rejected you, but they have rejected Me, that I should not reign over them.
1 Sam 8:11-18 He will take your sons and appoint them for his own chariots and to be his horsemen, and some will run before his chariots. 12 "He will appoint captains ..., will set some to plow his ground and reap his harvest, and some to make his weapons of war and equipment for his chariots. 13 "...take your daughters to be perfumers, cooks, and bakers. 14 "... take the best of your fields, your vineyards, and your olive groves, and give them to his servants. 15 "... take a tenth of your grain and your vintage, and give it to his officers and servants. 16 "... take your male servants, your female servants, your finest young men, and your donkeys, and put them to his work. 17 "... take a tenth of your sheep. And you will be his servants. 18 "And you will cry out ..., and the LORD will not hear you in that day."

2. But when He granted men to govern His creation, He helped them to be successful when they were in full cooperation with His Spirit:

1Sam 10:6 "Then the Spirit of the LORD will come upon you, and you will prophesy with them and be turned into another man. 7 "And let it be, when these signs come to you, that you do as the occasion demands; for God is with you. 8 "You shall go down before me to Gilgal; and surely I will come down to you to offer burnt offerings and make sacrifices of peace offerings. Seven days you shall wait, till I come to you and show you what you should do."
9 ¶ So it was, ... that God gave him another heart; and ... the Spirit of God came upon him, and he prophesied among them. 11 And it happened, when all who knew him formerly saw that he indeed prophesied among the prophets, that the people said to one another, "What is this that has come upon the son of Kish? Is Saul also among the prophets?"

3. God seeks to govern all flesh, and 'all the ends of the earth'.
Psalms 65
Ps 65:2 O You who hear prayer, To You all flesh will come. 3 Iniquities prevail against me; As for our transgressions, You will provide atonement for them. 4 Blessed is the man You choose, And cause to approach You, That he may dwell in Your courts. We shall be satisfied with the goodness of Your house, Of Your holy temple. 5 By awesome deeds in righteousness You will answer us, O God of our salvation, You who are the confidence of all the ends of the earth, And of the far-off seas;

4. Jesus will one day have multitudes follow His government, but requires dying-to-self to govern men for today. Read to see how He taught those who would make Him King: John 12:12-36



¶ 12 The next day a great multitude that had come to the feast, when they heard that Jesus was coming to Jerusalem, 13 took branches of palm trees and went out to meet Him, and cried out: "Hosanna! `Blessed is He who comes in the name of the LORD!' The King of Israel!"
24 "Most assuredly, I say to you, unless a grain of wheat falls into the ground and dies, it remains alone; but if it dies, it produces much grain. 25 "He who loves his life will lose it, and he who hates his life in this world will keep it for eternal life. 26 "If anyone serves Me, let him follow Me; and where I am, there My servant will be also. If anyone serves Me, him My Father will honor.
---
This is a copied page Riverside Sunday Services on APN to make it easier to find!
This folder is under construction until our web designing is complete.
If you wish to see the original, follow the link to our APN