Main Links
Web Folders:
A Daily Prayer Notebook Main Index
Learn to Pray Page Index -see all the p-n- documents
Bible Study Intro Index
The Latest full entire version

My Classes Links:
DPN Class List and Links in their Context (to be updated as completed)
Personal Links:
2006 Web Edition Guest's Daily Prayer Notebook\
The 1980 Prayer Notebook (thumbnail graphics of the first printed PNB)
Recent and ACCESS Pages
Access all You can see articles by yours truly, pastors, and missionary web pages we're hosting, and other Christian helps here including, among others:
Family Links:
Resources for your Family : Audio or Video
Freedom Index
My Business Links
How I Was Married in August 1988
Every good thing within the will of God, yields to patience.
-- C. Pat Lanyon
11 years prior to my marriage I was attending Tennessee Temple Baptist Theological Seminary after graduating mid-year from Bob Jones University in 1976-77. I enrolled and submitted myself to God in a way I'd never done before.
In 3 months I had volunteered for the inner-city Sunday Afternoon Ministry of the School's church and met providentially the man who is now my pastor in the 9-10 year old Girls Assembly Class.
I remained for Summer school knowing I'd quit after so much college schooling I'd already had (5 1/2 years) to get the BS Degree at BJU if I were to head for home late May 1977. I stayed in Chattanooga for Summer School, and, unknown to me at the time, I met the woman who was to become my wife 11 years later! Here's how it all happened...
During the summer I attended the Mid-summer Revival lead that year by Evangelist Ron Comfort. Being the first year he had ever left the 48 states to do evangelism in May 1977, in the Philippines, he was excited about missionaries and missions, and was speaking now at a school with a high emphasis on missions. I decided to yield to this challenge and submitted myself as a missionary should God so enable and lead. This happened on July 20, 1977. Within 4 weeks -- the close of the next summer school session I had met Christine Wise, a missionary from Bahamas BWI, after I choose to attend the "Foreign Missions Fellowship" meetings after supper on campus to follow-up my choice to become missions-minded.
She presented her field during the "F. M. F. Meeting" Though it was not love at first sight, the change that took over my heart the next 9 years was amazing. Though God had called me to the "foreign" mission field of New England, and not hers, God lead us both together later in His timing, and she spent 5 weeks in CT starting June 28, 1988. About the middle of that period, I received confirmation with my Lord and my Pastor and church that God was permitting this. We both sent letters off to those corresponding with us and announced our selected Wedding Date: August 13, 1988.
The story could be extended much longer, but God showed me how MUCH he could reward me for patience. Much more however, I learned how MUCH He could reward a young woman who patiently waited for God's assurance in choosing a mate, and contentedly serving people in a church ministry in a third world country during the family-bearing years for a young woman. After 15 years of service in the British West Indies, Christine now has everything many could have said she would never have: a home, a family of 4 and a beautiful church to serve God in raising that family. She made a choice not to follow after worldly lusts and has been richly rewarded much like the Old Testament story of Ruth the Moabite.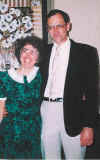 We pray this testimony will be an encouragement to you: To not follow the worldly philosophy of seeing only the outward appearance to choose a help-meet; To make character the most important option chosen. This is sure to lead to a more successful chance at having a long-term successful marriage.
God made us court each other by mail-- letters for 5 years, and seriously in the last 6 months of that 5 year period. Our physical courtship was 5 brief weeks of supervised courtship in front of an entire church congregation. We thank the Lord.
Ps 84:11 For the LORD God is a sun and shield: the LORD will give grace and glory: no good thing will he withhold from them that walk uprightly.
12 O LORD of hosts, blessed is the man that trusteth in thee.

Pr 18:22 Whoso findeth a wife findeth a good thing, and obtaineth favour of the LORD.

Click the letter graphic below to read her testimony announcing our marriage.
1.

2.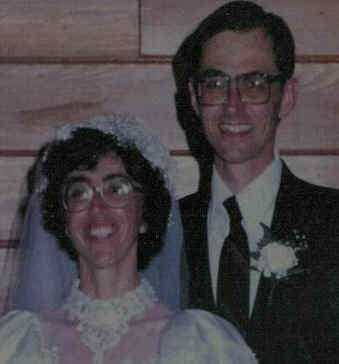 3.

4.


1. Announcement letter; 2. Patrick & Christine close-up & 3. full view, 4. Mary Wise Mother of Bride & James Edwin Lanyon Father of the Groom (Clicking each thumbnail will enlarge to full screen view.)

We were married in Bucyrus, OH at the Wayside Chapel under then pastor Kevin Rothaar
now retired and living with his health-challenged wife in the Bucyrus vicinity. The church family has continued to love and support us since our marriage. We thank God for them.
5.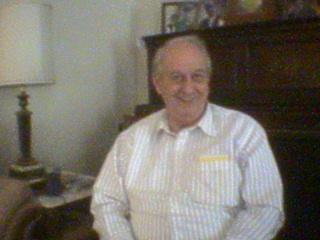 6.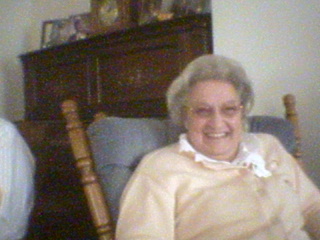 5. Former Pastor Kevin Rothaar, 6. Zelma Rothaar during a visit with them in 2006.
To God Be the Glory Great Things He hath done!
Revised and updated on 5/31/2008
Our Home | Christine Wise Lanyon | Christine's Creativity | Her Hands