Main Links
Web Folders:
A Daily Prayer Notebook Main Index
Learn to Pray Page Index -see all the p-n- documents
Bible Study Intro Index
The Latest full entire version

My Classes Links:
DPN Class List and Links in their Context (to be updated as completed)
Personal Links:
2006 Web Edition Guest's Daily Prayer Notebook\
The 1980 Prayer Notebook (thumbnail graphics of the first printed PNB)
Recent and ACCESS Pages
Access all You can see articles by yours truly, pastors, and missionary web pages we're hosting, and other Christian helps here including, among others:
Family Links:
Resources for your Family : Audio or Video
Freedom Index
My Business Links
Our Server Hosted Page
for Truth Baptist Church
Please visit our church online here - Truth Baptist Church
---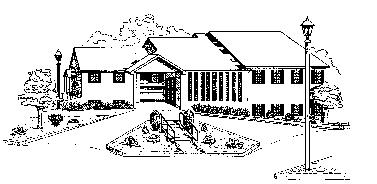 This is an artist's rendering of our first building built debt-free and completed in 1990. (10% of all designated building fund offerings were given to missions during the building of both our structures, and no virtual contractors were used in the first, except Randall Prahl, the first assistant/youth pastor.) Our church was averaging about 150 during most of the first building program.

This is a modern current photo of our facility including our new building attached to the old building, and was finished in 2002. It is an all-purpose building, and is being used extensively. Almost right away, it became a temporary building to Emmanuel Christian Academy, Newington, CT, while their building was being restored.
---
Pastor Bim Rowley Sources Pages

TBC Schedule and Videos

TBC - VBS Videos Section
TBC Leagues
Programs
TEENS
Announcements

Other Speakers/ Scripture Documents/ and Subject Messages

From time to time we have had many excellent visiting preachers, pastors, Evangelists, and Missionaries. Enjoy seeing or hearing these special messages we've made available below:

Nathan Beam
Ben Everson
John Goetch
Mac Lynch
Kevin Daly

Josh Hummel
Paul Schwanke Nov 2012 Revival MP3
Resources/Audio/Video Access Page
---
The following videos/ audio/ dvd files are provided
for members and friends of Truth Baptist Church, East Hartford/ South Windsor, CT.
We are grateful members and Welcome You Most Graciously!
-- Pat(12-4-1983) & Christine (10/30/1988) Lanyon.
(Each is added as prepared for this website,
and represents some of the finest preaching we have heard at TBC)
Selected Audio

Video
Nathan Beam, Evangelist

Messages
Evangelist for April 17-20 2011 at TBC

Bim Rowley, Pastor

Selected
2009-2010-2011 Revelation Series
Messages on the Unfaithful Servant, Luke 19
Miscellaneous

Kevin Daly, Missionary & Counselor

Ben Everson, Evangelist

Song- 081209-Ben_Everson@TBC-I'llPrayAgain.mp3

John Goetch, Evangelist, President West Coast Baptist College

This is the last sermon Dr. Goetch preached for us before entering his current position at West Coast Baptist College. (We suggest that you do an excellent exercise: as you listen, write down the references and memorize this message as he did. It would be an excellent message to preach to a lost audience of any size and could save someone when done!) Experience the excellence in Christian College ministry at: West Coast Baptist College/ Lancaster Baptist Church, Lancaster, CA music at: YouTube!

See Also:

APN of TBC's VBS ADDED/Edited on: 04/13/2014

2007 Christmas Eve Program click the folder to download or choose individual files http://www.aprayernotebook.net/access/TBC/Chr-Eve07-DVD

Video_TS files

TBC Teens
Web Pages related to some files above and other pages and links:
As downloaded, more will appear here.